Embarrassing fact: Whenever the ABC Family Channel has a Harry Potter marathon, Brad and I invariably end up planting ourselves in front of the TV and watching it. The
entire thing
.
In case you're not familiar with this venerable institution of time-sucking programming, we're talking about HP Movies 1 through 4 -- Sorcerer's Stone to Goblet of Fire -- which, all told, equals about 12 hours of immersion in the wizarding world.
And it is AWESOME.
This weekend, at least, we've both been stricken with some sort of horrible flu-like bug which includes symptoms such as Sneezing, Sniffling, and Mucus-Leaking Head Which Weighs Approximately Nine Hundred Pounds. So the fact that we both spent a full 48 hours lying around and staring glassy-eyed at the television whilst blowing little snot-bubbles out of our noses is at least somewhat forgivable. (70-degree weather or not, I'd like to see
you
try playing frisbee in the park when your only choice is to become a mouth-breather or risk suffocation.)
Anyway, what I'm saying is, we do a lot of Harry Potter in this house. We've watched the movies, we've read the books, and we own multiple copies of each -- which makes it possible for us to enjoy such novelties as, say, a permanently installed copy of Harry Potter and the Half-Blood Prince (which, btw, is the best of the series) in our bathroom.
And this is how we -- as a couple -- came to discern a serious problem with Harry Potter (and the Whatever with the What-have-you) as realized on film.
Note: Anyone who is unfamiliar with or disinterested in Harry Potter mythology should probably clear out now.
Okay, are all the uber-nerds still here? Great. Here's my problem, with numerical organization:
1. In the HP Chronology, Harry's parents met whilst attending school at Hogwarts School of Witchcraft and Wizardry -- which, as we all know, graduates its students at the age of 17.
2. Furthermore, many of the main characters in the series, including Sirius Black, Remus Lupin, Peter Pettigrew and Severus Snape, are understood to have been at Hogwarts at that same time.
3. The rise and fall of the uber-evil Lord Voldemort occurred within a couple years of all these various characters' graduation from Hogwarts.
4. Therefore, Harry Potter's parents -- at the time of their murders by Voldemort, when Harry was an infant -- could not have been more than, say, 21 years old (assuming they married at 18 and, y'know, took a couple years to enjoy each others' company before reproducing)...
5. ...and the friends left alive (Lupin, Pettigrew, Black, et al) would all be in their early-to-mid thirties as the story continues 10 years later.
Why, then, do Harry Potter's dead-at-21-years-old parents look like this?
Either Lily and James Potter were some seriously hard-livin' teenagers, or somebody in the casting department failed to
do their research.
Also -- since when do these guys, who are all supposed to have been at school at the same time, pass for thirty-somethings?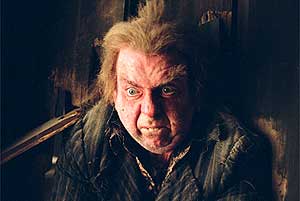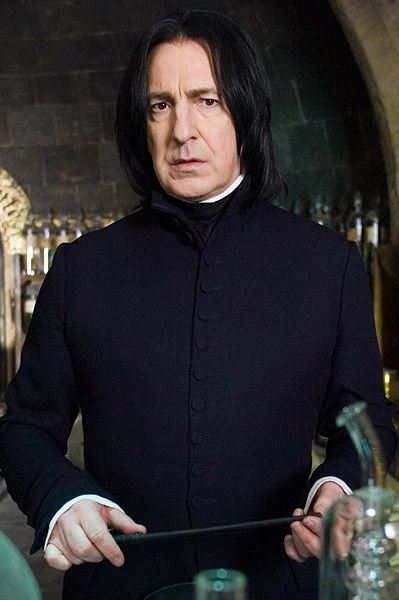 Seriously? Seriously?!! Alan Rickman is like
70 years old
. He could be in AARP!
I can't decide what's worse: The fact that the director cast a bunch of old people in roles meant to be played by virile youngish adults... or the fact that I am dorky enough to notice.